With the support of CIS, our students stay in school, graduate and go on to bright futures. They all have a story about their journey to who they are today. Alumnus Shontavious shares his.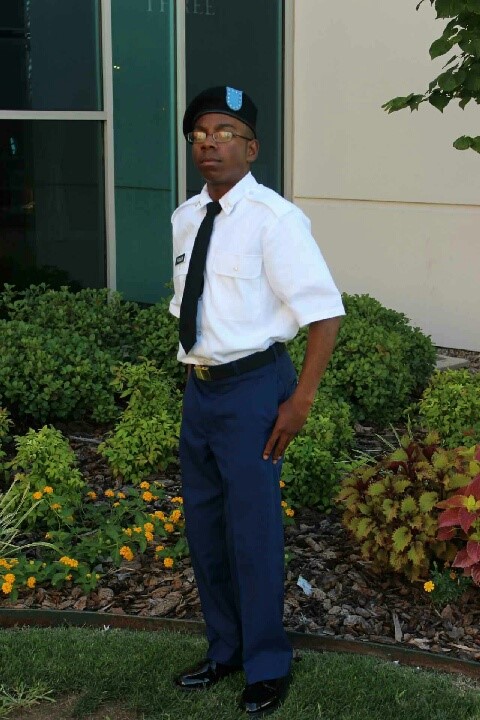 All In For Students Award Recipient 2016: The All In for Students Awards honors the exemplary dedication of CIS staff, educators, community partners and our alumni, who go all in for students, empowering them to stay in school, graduate and go on to brighter futures.
"I'm going to kill that man. I'm going to kill him."
Shontavious Ficklin repeated those words over and over again as friends and family gathered to bury his mother. Dulled by painkillers and confined to a body cast, the little 4-year-old posed no real threat to the drunk driver who had struck the family car, killing his mother. But as the anger grew and festered, it would pose a threat to Shontavious himself.
During his long, slow recovery, the sense of rage was joined by loneliness as Shontavious was moved to a remote rural county in Georgia to be raised by a verbally abusive grandmother. His father and his brother were in and out of jail. By the time he reached sixth grade, Shontavious already had a reputation as a confused, rebellious troublemaker.
But despite the well-known emotional trauma in his past, it was only when he confessed suicidal thoughts to the school counselor that anyone thought to seek help. "I was just looking for someone to understand how I was feeling," Shontavious says. "I felt abandoned, like no one cared."
Fortunately, the counselor called Communities In Schools of Warren County, and soon Shontavious had the support structure he had been craving all his life: individual counseling, family counseling, tutoring, mentoring and daily check-ins with his site coordinator, Chranda Baker.
Slowly but surely, Baker was able to get close to the troubled boy. "It took a while to build that trust," Shontavious admits, "like probably six or seven months. Any ordinary person would have given up a long time ago, but she kept trying to build that relationship."
As Shontavious learned to let go of his anger, Chranda looked for more constructive ways to keep him occupied. There were anger management classes, prevention retreats, summer camp and volunteer opportunities. He became a leader in 4-H, and played saxophone and percussion in the band.
"Before CIS I didn't pursue any of that stuff," he says. "I didn't pursue anything, really. I was shy. I didn't like talking to people. But they got me out of my shell, got me involved."
By the time he was a junior, Shontavious was already an honor student and a recognized leader, but he wasn't done yet. He surprised everyone that year by joining the Army National Guard and moving away for the summer to complete his basic training at Fort Sill, Oklahoma. His motivation was intensely personal, and his voice drops when he talks about it.
"My mom did ten years in the Army. As I got older, I started researching it more, and I wanted to continue on her journey. If she were still here, I know she'd be so proud of me. This would be something we could have in common."
In 2015, Shontavious graduated fifth in his class at Warren County High School. He is now a Private First Class, stationed at Fort Stewart in Hinesville, Georgia, and studying criminal justice at Savannah State University. One day he hopes to be an FBI agent, and the irony isn't lost on him.
"If it hadn't been for CIS, honestly, I think I'd be in jail today," he says. "I'm just glad I ended up on the right side."
- January 2016