Hector started working when he was just 16 years old to help support his family. But he knew he could make a better life for himself by focusing on his education.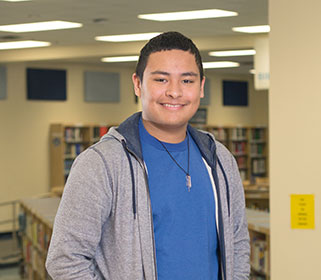 With a 4.0 GPA and ranking 8th in his class, Hector has been accepted to 10 universities including:  Pennsylvania State University, University of Texas at Austin, Texas A&M University, Texas Tech University, Texas State University and Texas Lutheran University. 
His site coordinator, Mr. Regan says when he first met Hector as a freshman, he was quiet and shy but knew immediately that Hector was a bright student.
With an estranged father and a mother taking on the additional responsibility of adopting her grandchildren, Hector saw his family struggling financially and decided to help his household by getting a job when he turned 16 years old.  
"I really admire my mother because she manages to juggle all of these responsibilities as well as being a full-time mom, she has to work hard to support us".
Though difficult for Hector to balance his responsibilities with school, work, family and friends, Hector depended on his site coordinator to encourage his drive and motivation to graduate.
"Having a full time job can be difficult but at the same time I'm helping my mom and that's rewarding to me because it's helping me grow as an individual and at the same time I get to see my mom smile a little more".
As a first generation high school student, knowing he had to better himself to support his family, Hector relied on his site coordinator to help him find the path to college and see the endless opportunities that lie ahead with a degree. He got involved in the Upward Bound Program, which provides students a variety of opportunities to participate in college tours, attend Saturday academic enrichment programs; and the summer residential program to give students a preview of what college will be like when they attend in the fall. 
Hector works at Whataburger to help support his family financially and recently Whataburger presented Hector with $1,000 towards his education. 
 "Without CIS, I don't picture myself as the hard working individual I am today." I would still probably be the shy kid in the background that doesn't say much. But now I can genuinely say that I have control over what I'm going to do and I know that I'm going to accomplish whatever I set out to."
From his numerous options, Hector is going to University of Texas at Austin where he plans to study chemistry or biology. 
- June 2016