All In For Students Award Recipient 2015: The award is presented to site coordinators who demonstrate an unwavering commitment to students. With acts of love and transformation, these Heroes are the best at what they do.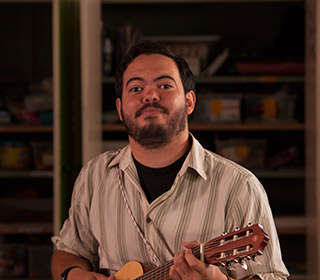 Walking around in his East Austin neighborhood, Michael Romero feels at home. He appreciates the strong sense of community, and it reminds him of where he lived in Honduras when he served in the Peace Corps. Romero lives across the street from Zavala Elementary School where he works as a Communities In Schools of Central Texas site coordinator.
"Above all else, positive relationships with students and the team of parents, teachers, administration and other agencies, allow for an incredible potential," Romero said. "The stronger the relationships are with all parts of this team, the easier it is for kids to connect with that spark within each of them to grow. I believe a big part of our job is to connect people to each other."
Romero is a licensed clinical social worker and a musician, often using music in the context of therapy. In the CIS room, students can strum guitars, beat on drums, write lyrics or sing. Romero says music helps students develop coping strategies and better express their feelings.
When Romero, known on campus as "Mr. Michael," came to Zavala in 2010, he recognized a need for students to get more time outside in the fresh air and to be exposed to more of what the city has to offer. He started an Adventure Club for his fourth and fifth grade students, taking them on trips to parks, universities, the Austin Zoo, and to volunteer at the local food bank. It was an immediate success, addressing various social and emotional needs of the students. The weekly outing evolved into a monthly leadership camping trip that now includes around 10 students. Teachers, interns and volunteers join Romero on the excursions, most recently to Guadalupe River State Park.
Academic improvements are evident, particularly on the State of Texas Assessment of Academic Readiness, the annual statewide student achievement test in Texas. Between 2012-2014, third graders scoring proficiency in reading improved 27 percentage points; fourth graders 10 percentage points; and fifth graders 23 percentage points. Scoring in math and science for all grades have improved overall as well.
Romero is passionate about helping his students succeed. To meet the unique needs of the students on his campus, he facilitates individual and group counseling, supports parents and works with a variety of community partners to bring in additional resources. All of these efforts are helping to address serious nonacademic obstacles to academic success.
"Michael's devotion to helping our students who are most in need to break down barriers has truly made a difference in their day to day learning," said Sean Fox, principal at Zavala Elementary. "He is extremely focused on his work at all times and does it with a high sense of integrity and purpose."