Motivated and outgoing, Monica is looking forward to a positive future and ways to give back to her community.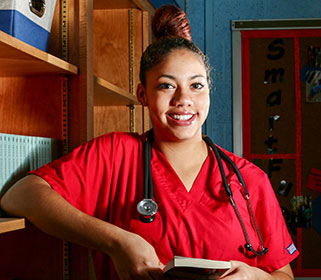 Decision Day is almost here, and William Penn High School senior Monica will get to make a choice between which college to attend. Should she choose Lincoln, Delaware Tech or St. Francis? It is a welcomed dilemma, considering what the young student has had to overcome.
When Monica was only five, her mother died after a battle with a drug addiction, and her young father was unable to care for her. She was eventually adopted, along with an older sister, and was able to settle into a stable home life.
Motivated and outgoing, Monica was never distracted from her studies, and has succeeded academically and socially despite the challenges she's faced away from school.
"I'm proud of where I am today because I was able to grow up on the right path,"  said the teen who plans to become an orthopedic surgeon. "I'm proud that I had support and was not led astray. "
Support came in the form of her adopted mother, whose strength Monica says inspires her, and being connected to Communities In Schools of Delaware. Since her sophomore year at Penn, she has participated in the Pearls of Wisdom program, a girls group that helps young women set academic goals, discuss life issues and learn skills that will empower them to have success. Monica was also on the Penn cheerleading team for four years before an injury sidelined her. She credits the CIS staff for helping her make college a reality. 
"CIS taught me not to give up," said Monica. "They've provided a lot of services that have made a difference in my life."
"Years ago I met a fun and easy going student and I've had the pleasure of watching her grow and mature," said Erika Potts, a site coordinator at CIS of Delaware. "I've seen her take the initiative in many things when it's something she's interested in. I definitely see her as a leader."
Even with studying for exams and the added stress that comes with senior year, Monica has found time to be a leader in her community. Working with a friend she organized a Relay for Life fundraising event that will take place on the Penn High School track, and raise money for the American Cancer Society.
Said Monica, "I have a passion for helping people and giving back."
- May 2016