All In For Students Award Recipient 2015: The award is presented to site coordinators who demonstrate an unwavering commitment to students. With acts of love and transformation, these Heroes are the best at what they do.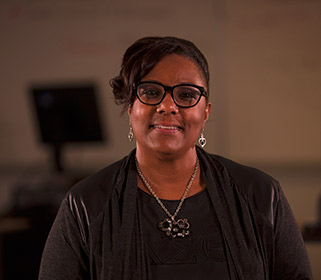 At Westlake High School, the Communities In Schools office is run by Dr. Demona Warren. The site coordinator at Communities In Schools of Atlanta, Ga., has a long history of supporting at-risk student needs.
"I was created to do this," said Dr. Warren, who began working with Communities In Schools as a volunteer in 1984. At the time, Dr. Warren was an assistant buyer at an Atlanta department store. Her employers allowed the staff to volunteer with the students who were in the Cities In Schools academy, the predecessor to Communities In Schools, that was housed in the store. Dr. Warren spent hours every week with the students, tutoring, mentoring and even using her music background to help create a choir. When an opportunity opened up to come on staff, she took it and never looked back.
"I've always had great mentors in my life, and I just wanted to be that safety net for others, to catch them before they fall," said Dr. Warren who's been at Westlake High School for three years. "I've always had that passion to help children achieve and be all that they can."
Dr. Warren's passion simply breaks through barriers. With "Chat & Chew," she schedules weekly one-on-one sessions with students to have lunch and discuss issues they have with conflict resolution. Summer Bridge supports ninth-grade students who need extra help to bring up their test scores on the annual, statewide assessment test. And she takes on her latest challenge with equal determination — getting computers to as many students as possible so they will have access at home and be able to complete required online assignments. As a result of Dr. Warren's relentless advocacy and support, student absences and tardies have decreased, attitudes have changed and 77 out of 82 students were promoted in the 2013-2014 school year.
"It is amazing to see her at work," said Dr. Grant Rivera, former principal, Westlake High School. "She only needs to hear that a child is in need and her response is always the same — 'How can I help and what do they need?'"
One of those students was Hershell Holliday. When he was referred to CIS, his grades were less than satisfactory and his test scores were low. Dr. Warren adds that the popular football player had low self-esteem and had no sense of who he could be. She immediately got him a personal tutor, signed him up for Game Changers, a peer-to-peer support group, encouraged him to become a mentor and helped turn him into his own advocate. His grades improved and the shy student opened up. The day Hershell passed all of his classes, something he had never done before, he came directly to Dr. Warren's office to share the good news.
"I really believe in these students," said Dr. Warren. "All of these students touch my heart. Their success is my passion. They are really the unsung heroes."