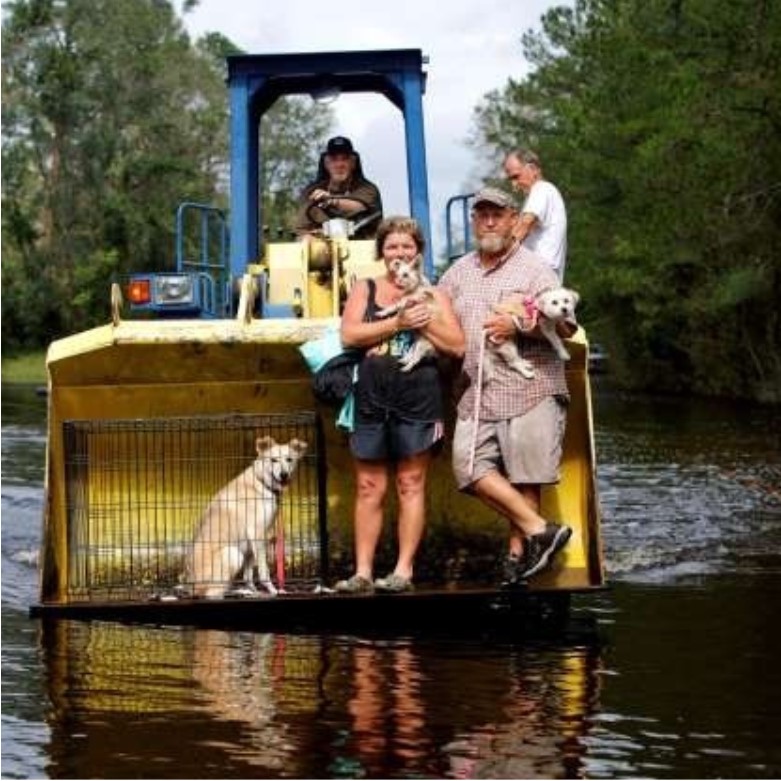 Hurricane Florence and flooding severely impacted three Communities In Schools affiliates serving four counties. CIS of Brunswick County, CIS of Cape Fear (Pender and New Hanover Counties), and CIS of Robeson County, serve these low-lying areas that are home to the poorest counties in the region. With many staff homes flooded to the rooflines, students in shelters, and badly damaged schools (including CIS Academy, CIS of Robeson County's charter school), classes are not expected to resume until the second week of October for those still in the area. Communities In Schools staff are still working to track down the location of displaced families of case-managed students.  
Pender County staff and families were hit especially hard by the flooding.  The latest report from Pender County Schools indicated that they had identified more than six-hundred and fifty homeless students, with over four hundred new families reaching out for support. CIS of Cape Fear site coordinator Sararesa was airlifted off her roof early last week and is still in a shelter in Onslow County, an experience all too familiar after she and her family lost nearly everything to 2015's Hurricane Matthew, which, by contrast, left around one-hundred and fifty students homeless. 
Staff are struggling to find places to work, while coping with their own homes flooding. But through it all, staff are sorting donations, distributing supplies, serving meals at churches and delivering food for those who cannot travel, supporting young parents in navigating the available resources, and helping families find temporary housing. 
CIS of Brunswick County lost its entire administrative offices when hurricane winds crushed the building. They were able to salvage their server, but little else. Staff are seeking a temporary workspace while also volunteering with community groups serving food and cleaning up homes.  

Through Save The Children, CIS of Robeson County's staff and board members are housing Americorps National Civilian Community Corps crews who are currently working on damaged homes in Maxton, NC. The team at CIS of Brunswick County are out volunteering with community groups serving food and pitching in on community clean-up efforts while sorting through their own flooded homes and determining next-steps with FEMA.  

CIS of Cape Fear staff are hard at work across Wilmington, which was badly flooded. Marrio, Director of Operations at CIS Cape Fear, is serving as a Case Manager at the shelter, helping connect families to community resources before the shelter closes this weekend. 
Students need items like school shoes, underwear, socks, and coats. As the majority of recently collected donations were destroyed, backpacks full of school supplies are also desperately needed. Families need household cleaning supplies, hygiene products, and laundry detergent. Families need toiletries, diapers for baby and adults, baby formula and wet wipes, canned goods, box fans, water, hand sanitizer, work gloves and utility knives, trash bags, batteries, flashlights, and general construction tools. Gift cards for gas, food, and supplies will be instrumental in helping families get back on their feet and students back in school.  
Fred Rogers said, "look for the helpers." CIS of North Carolina affiliates are used to being the helpers, but today, the helpers need help. Many of the student support specialists are facing their own traumatic circumstances while still pitching in with relief efforts for others. Please consider donating to the All In Relief Fund to help not only the helpers, but the students, families, and communities they serve every day.