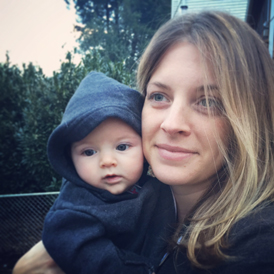 20 Questions in 60 Seconds is our blog series in which we interview Communities In Schools staff members. This week's guest is Alison Bourgault, Manager of Digital Communications at the Communities In Schools National office.
1. What three traits define you? 
Laid back, empathetic, kind.
2. What is your personal philosophy? 
"If you're not sure, be definite." This saying comes up often in my family as a reminder to be confident in yourself and your ability to find answers, try new things and succeed.
3. What would you like to be your greatest accomplishment? 
My family. Happy and healthy.
4. Ten years ago, who did you think you would be now?
Owning or running an art gallery.
5. What's one thing you couldn't live without? 
Coffee. I have a 5 month old baby girl at home so coffee is critical at this stage.  
6. What are you listening to/reading these days? 
Lately, I listen to the podcast "You Made It Weird" during my commute to and from work. It's a conversation/interview style podcast that is usually about two hours long. It keeps me entertained and interested, but also doesn't require a high level of concentration.
7. What is the greatest challenge you have had to overcome in your life thus far?
My father passed away a couple weeks before my college graduation. I'm not sure you ever really "overcome" losing a parent, but you learn how to carry on and make that experience part of who you are.
8. What is the one thing you cannot resist? (food/dessert/candy/etc.)
If only there were only one thing! My husband has gotten into baking lately and it's alarming how quickly a tray of brownies can disappear between just the two of us.
9. Where is your favorite place to be?
The beach in Massachusetts. I grew up in Massachusetts and have lots of great memories in Gloucester, Cape Cod, Martha's Vineyard and Nantucket.
10. Do you have any pets? What kind?
Bella, a 10 year old Springer Spaniel and Izzy, a 6 year old cat. They're buds.
11. What is your favorite thing to do?  
Personally, I love yoga. As a family, I love going for walks together, especially if it's a trail where Bella can run free off her leash.
12. Where is the best place you've traveled to and why? 
Ecuador has been one of my favorite trips. Not only was it beautiful, but the trip was planned last minute and included a lot of hiking in the Andes Mountains, which is not my biggest strength, so I was pleasantly surprised with how well it went!
13. What's the weirdest job you've ever had? 
In high school and part of college I spent summers working at the park/camp in my town. I started as the arts and crafts councilor and was lucky if one kid showed up each afternoon. I would usually end up sitting on a park bench for a few hours each day playing with pipe cleaners, pom-poms and glitter by myself.
14. What's the coolest (or most important) trend you see today? 
Perhaps fascinating more than anything- social media and the role it has come to play in our society. We are now more used to being exposed, unedited and raw. It has also become a powerful tool in learning about the world and other people, for better or for worse.
15. Which one would you want most – flying cars, robot housekeepers, or moon cities?   
Again, 5 month old baby at home- sign me up for a robot housekeeper, please!
16. What would you do (for a career) if you weren't doing this?  
I'd love to be an interior designer. As a kid I dreamed of being able to decorate and shop for my own house and now design and DIY blogs are some of my favorites.
17. You're hosting a dinner party. Who are the 3 people, living or dead, who you would invite and why?
My dad, my husband and my daughter. I would love for them all to meet.
18. What advice do you have for kids who are struggling in school? 
Talk to someone. Family, friends, school staff….you aren't alone and there are people who can and want to help.
19. Tell us something that might surprise us about you. 
In college I majored in studio art and art history. For my senior studio art project, I carved stone sculptures. I haven't done it since, however, since I don't have a studio or pneumatic tools.
20. What is your favorite thing about working at Communities In Schools?
As someone whose work is rooted in the digital world where everything is constantly changing and evolving, I appreciate the willingness to allow for experimentation and exploration. 
Have more questions for Alison? Comment them below and she'll answer.