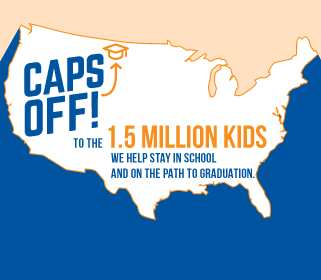 The end of the school year is a time of immense celebration for students graduating from high school and advancing to the next grade level. For CIS students, who face many challenges on their path to graduation, this accomplishment is proudly lauded by a network of caring adults that surrounded them with a community of support, allowing them to succeed.
In the 2014-2105 school year, among CIS' case managed students:
This graduation season, Communities In Schools says "Caps Off!" not only to the 1.5 million graduating high school seniors and students who have successfully completed another school year, but also to the caring adults, partners, volunteers and our network of affiliates who have helped to get them there.